Full featured ASP .NET WEB application for management of clients, programs, orders and licenses with flexible automated activation system for programs protected with PC Guard Software Protection System family products.
2 editions
Activation center (ACEN) is available in two different versions:
Source code version
(with full asp .net source code, freely modifiable) and
Pre-compiled version
(precompiled, without ASP .NET source code). All
PC Guard
family products are supported by both versions.
Requirements
ACEN requires Microsoft Windows based WEB server (dedicated web server or shared hosting with ASP .NET 4 support) and Microsoft SQL server (2005 or later edition, Express editions are also supported).
More...
Full control
Activation center is installed on your own server and fully controlled by your staff. Turnkey deployment service is also available as optional purchase so you can let our technical support deploy it for you and get it ready for first use.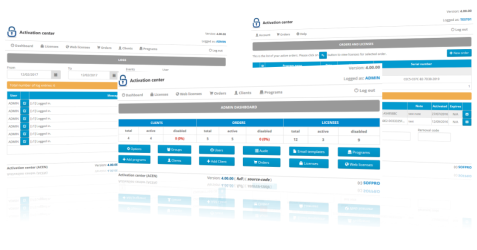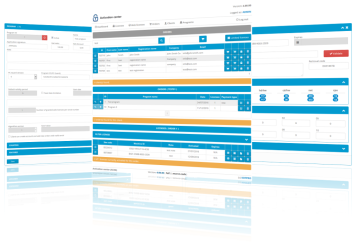 Activation center (ACEN) is royalty free. There are no limitations related to number of clients, orders, programs or licenses you can manage. ACEN is licensed per server and each server requires separate license. Detailed pricing information is available in our
online store
.
Standard
: each license is identified by Customer, Order and Program and requires valid client account and order data in activation center.
Web
: each license is identified by Program and Serial Number pair only. No customer or order data is required.
More...
2 interfaces
Administrators: Administrator users can add/modify/delete information about Programs, Clients, Orders, Licenses and Web licenses, manage database users, groups and authorization profiles, review audit logs, set activation rules... Clients: Clients can manage their licenses (activate, reactivate, remove and transfer) and personal information 24/7 online.
ACEN Web service
If required, manage clients, orders, licenses and web licenses directly from any protected application.