Activation center (ACEN) is ready-made, full featured ASP .NET WEB application for management of clients, programs, orders and licenses with flexible automated activation system for programs protected with PC Guard Software Protection System family products.
Supported editions of PC Guard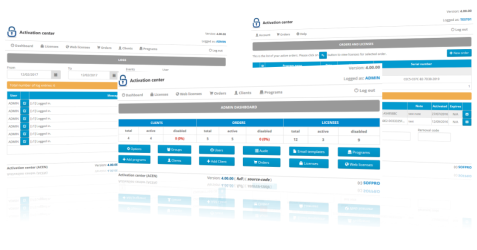 ACEN supports applications protected with all PC Guard family products.

PC Guard V6 family products:

- PC Guard for .NET64 V6
- PC Guard for Win64 V6
- PC Guard for .NET V6
- PC Guard for Win32 V6

PC Guard V5 family products:

- PC Guard for .NET V5, PC Guard for Win32 V5
Versions
Activation center (ACEN) is available in two different versions:

1. Source code version (with full asp .net source code, freely modifiable)
2. Pre-compiled version (precompiled, without ASP .NET source code)

ACEN is licensed per server. Each server requires separate license. There are no additional charges (per user or per generated licenses for example).
Included components
Activation center also includes additional useful components: AC Generator .NET (web component for generation of activation codes) and Activation web service which can be accessed from any desktop or mobile application.
Licensing models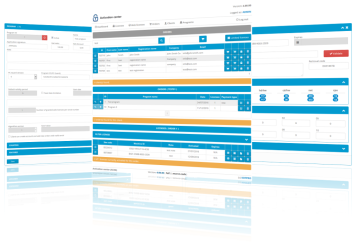 By default, Activation center is intended for managing licenses for programs protected with REMOTE protection method. However, it also supports programs protected with PLAIN/USB protection.
There are two main licensing models for program protected with remote protection:
In standard licensing each license is identified by Customer, Order and Program and requires valid client account and order data in activation center.
Standard licenses can be handled in three different ways:
1. By administrator users working in administrators interface where they can add, update or extend licenses for any order
2. By clients (end users) when logged into clients interface where they can manage only licenses tied to their orders.
3. By administrator users and clients via ACEN web service interface where administrator users can manage all licenses and clients can manage only licenses from their account.
In web licensing model each license is identified by Program and Serial Number pair only. No Client or Order entry is required.
Each of provided models has its pros and cons. Which licensing model you'll choose depends on your actual requirements and needs. Both licensing models can be enabled for same program.
NOTE: PC Guard 06.00.0300 and later versions include out of the box (no programming is required) support for web licensing model.
Demo version
If you are interested in testing Activation center (ACEN) before purchasing please request access to online demo version of Activation center.

You will receive login information for both administrator and client interface so you can fully test all available features.