Activation center (ACEN) is ready-made, full featured ASP .NET WEB application for management of clients, programs, orders and licenses with flexible automated activation system for programs protected with PC Guard Software Protection System family products.
Supported editions of PC Guard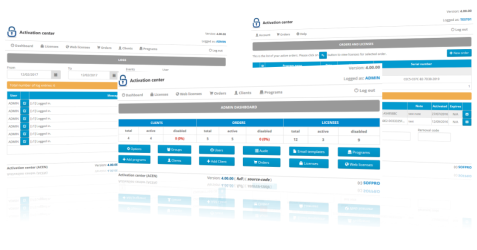 ACEN supports applications protected with all PC Guard family products.

PC Guard V6 family products:

- PC Guard for .NET64 V6
- PC Guard for Win64 V6
- PC Guard for .NET V6
- PC Guard for Win32 V6

PC Guard V5 family products:

- PC Guard for .NET V5, PC Guard for Win32 V5
Versions
Activation center (ACEN) is available in two different versions:
1. Source code version (with full asp .net source code, which can be freely modified to suit your specific needs)
2. Pre-compiled version (precompiled, without ASP .NET source code)
Licensing
Activation center is licensed per server. Each server requires separate license. There are no additional charges (per user or per generated licenses for example).
Demo version
If you are interested in testing Activation center (ACEN) before purchasing please request access to online demo version of Activation center. You will receive login information for both administrator and client interface so you can fully test all available features.
Included components
Activation center also includes additional useful components: AC Generator .NET (web component for generation of activation codes) and Activation web service which can be accessed from any desktop or mobile application.
Licensing models
Supported protection scenarios