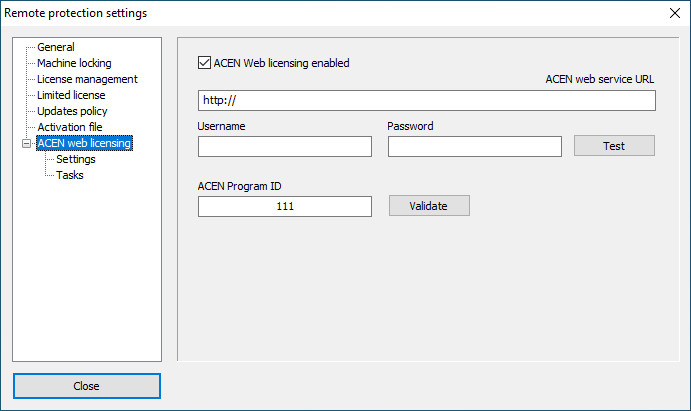 ACEN Web licensing enabled
Select to enable out of the box ACEN web licensing implementation in PC Guard. Protected application will automatically handle all ACEN web licensing tasks in conjunction with Activation center (ACEN) server.
ACEN Web service URL
Full path (URL) to Activation center (ACEN) web service. URL must start with "http://" or "https://"
Example: https://www.youractivationcenter.com/acen.asmx
This option is mandatory for web licensing feature.
Username
Valid ACEN user (admin) username.
Password
Valid ACEN user (admin) password.
Testing connection to ACEN server
Click on Test button to test connection to ACEN server.
Connection to ACEN web server service will be tested. This feature requires ACEN server 04.11.00 and later.
In case of successful connection appropriate message will be displayed together with information about remote ACEN server version.
ACEN Program ID option
Program ID value as defined in Activation center (ACEN). (mandatory)
NOTE: This is not the same as Program ID value in remote protection settings! This is unique identification number for program in Activation center (ACEN).
Click on Validate button to check if there is a program with such ID and with web licensing enabled in activation center. This feature requires valid ACEN server settings.
NOTES:
Username/Password is required for testing connection to ACEN web server and validating programs for web licensing.
ACEN admin username will be saved to project settings. Password will not be saved together with other project settings for security reasons.
Password value should be set when access to ACEN from PC Guard is required (for testing connection to ACEN server and validating program).
Protected application thread mode will be automatically set to multi-threaded by protection code. This means that you should avoid initializing threading mode (CoInitializeEx) in your application! If you do this, you will application will generate 0x80010106 error (RPC_E_CHANGED_MODE) and usually display "The threading model can not be changed after initialization" error message.