- Open serial number options dialog: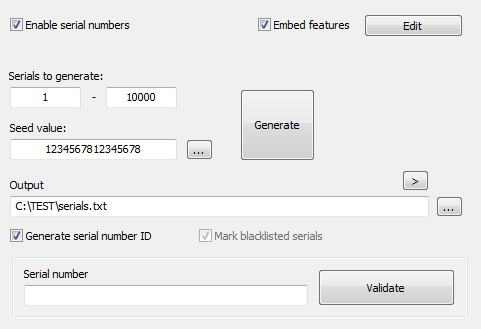 - Select 'Enable serial numbers' option.
- Enter 'Seed value' (any 64bit hexadecimal number) or click on '...' button to generate random one.
- Set interval of serial numbers to be generated: 'Number of serials to generate' (1-65535)
- Select 'Embed features' option if you want to embed features into serial numbers.
    
    - Click on 'Edit' button to open features window.
    - Select appropriate features.
    
    - Keep features window open.
- Set output filename.
- Click on 'Generate' button to generate serial numbers and save them to output file.
- Click on '>' button to open and review output file with generated serial numbers into notepad.