Software copyright protection is used by software development companies to prevent the unauthorized copying of their software.
Looking for secure, reliable, compatible, affordable, and easy to use software copyright protection system? No need to search any further! With over 20 years of experience in the field of software protection, licensing and activation we are currently providing the most secure software protection and licensing solutions for your valuable software assets for all Microsoft Windows operating systems and .NET framework.
PC Guard is a professional software copyright protection system for all Microsoft operating systems. PC Guard will protect your software with advanced cryptography, anti-cracking, anti-reverse-engineering and many different software copy protection techniques.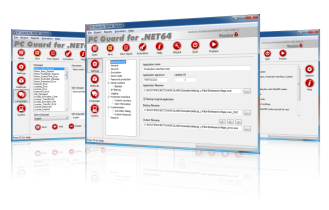 Easily implement almost any software copyright protection scenario: demo (number of days, period, number of runs, timer), demo extension, activation, permanent license, limited license (number of days, period, number of runs), license extension, license removal, license transfer, password protection, serial numbers, IP filtering, custom features, custom counters, custom dialogs, USB drive (Flash/HD) locking, network licensing. More...
All PC Guard family products are royalty free! With only a single copy of PC Guard  you can protect unlimited number of your applications with no additional investments. No additional hardware (dongles) is required for proper execution of protected programs. There are no limitations related to number of different programs nor number of distributed programs. Our software copy protection system is based only on complex software copyright protection techniques and hardware details.
PC Guard software copy protection system is available in 4 different versions: PC Guard for Win32, PC Guard for .NET, PC Guard for Win64 and PC Guard for .NET64. Not sure which version(s) are right for you? Find out now...