Looking for software protection solution for your Python applications?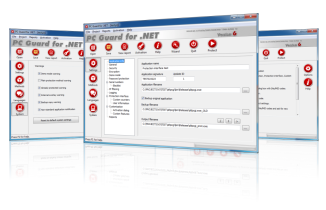 Protect your Python applications from illegal copying and prying eyes by using strong and reliable software protection system! PC Guard will protect your Python software with advanced cryptography, anti-cracking, anti-reverse-engineering and software copy protection techniques.
Easily implement almost any software protection scenario: demo (number of days, period, number of runs, timer), demo extension, activation, permanent license, limited license (number of days, period, number of runs), license extension, license removal, license transfer, password protection, serial numbers, IP filtering, custom features, custom counters, custom dialogs, USB device (USB Flash / USB HD / USB NIC MAC) locking, network licensing. More...
Use PyInstaller or Nuitka to package your code and then PC Guard to additionally encrypt and protect packaged Python applications.
PyInstaller
Both One-Folder (recommended) and One-File PyInstaller bundling methods are supported. PC Guard's advanced overlay management (AOM) and internal overlay encryption are by default enabled for PyInstaller created applications. This unique protection solution offered by PC Guard means that PyInstaller data which contains actual Python code of your application and is attached to PyInstaller loader stub (exe) will also be additionally encrypted.
PyInstaller bundled applications can be successfully digitally signed after protection.
PC Guard for Win32 (.NET) supports PyInstaller Python 2.7 and 3.x 32bit applications and PC Guard for Win64 (.NET64) supports PyInstaller Python 3.x 64bit applications.
Nuitka
PC Guard also includes out-of-the-box support for Python applications created by Nutika. Nuitka created applications have different structure so AOM and internal overlay encryption are not applicable for these applications.
Protected Python applications will work on all 32-bit and 64-bit desktop and server Windows operating systems.
By default, no source code changes or programming experience is required to accomplish professional software protection for your Python programs. PC Guard can by used by anyone, from absolute beginners to professional software developers.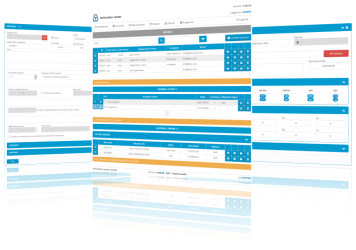 All PC Guard family products are royalty free! With only a single copy of PC Guard  you can protect unlimited number of your Python applications with no additional investments. No additional hardware (dongles) is required for proper execution of protected programs. There are no limitations related to number of different programs nor number of distributed programs. Our software copy protection system is based only on complex software copy protection techniques and hardware details.
Centralize, easily manage and track all information about customers, their orders and licenses with Activation center (ACEN). Activation center is full featured asp .net web application for management of clients, programs, orders and licenses with flexible automated activation system for programs protected with PC Guard family products.